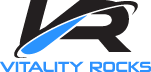 Welcome to Vitality Rocks!
Vitality Rocks™ is a premium UK health and nutrition brand created out of a passion for natural, healthy products that can provide real benefits to our customers. If we don't believe in it wholeheartedly - we don't sell it!
Living a life of vitality is not so easy nowadays with the pressures of daily life and work all to easily getting in the way. You have to feel good to get all that is good in life and that is the philosophy behind Vitality Rocks™
Products that work
Products we are proud of
Products that are as natural as can be
Organic whenever possible
At Vitality Rocks™ we go out of our way to source and provide nutritional supplements that help us attain vitality and energy for life.
A family business that cares
We are a family owned UK business based in South Wales, UK.
Our business reflects on us and our values and we are motivated and committed to continuing to build Vitality Rocks™ into a major brand whilst never compromising on our core values of providing natural products that we are proud of - and that work!
With a qualified Nutritionist and Nutrition Coach on board, we evaluate every product to ensure it is effective and fits in with our ethos.
As a company, our customers are our lifeblood and we'd love to hear your feedback. If you have any comments or suggestions, please do get in touch and we promise to take your feedback on board.
If you're ready to shop, you can find all our products here.