VIBE
Weight Management and Health the VIBE way
Are you ready for Vibrant Good Health?
We're talking Deep Health - a whole life experience where you feel great emotionally, mentally and physically.
We've developed VIBE to help you get there.

VIBE can help you manage your weight with No Crash Diets!
When you're THRIVING physically, you'll have Energy to Live Life to it's Fullest.
When you're emotionally SETTLED, you'll deal with everything life has to throw at you with ease.
When you're mentally CLEAR, you'll have clarity of thought to make the right decisions on a daily basis.
Are you ready for a new lifestyle? Are you ready to Change?
Then you're Ready for VIBE...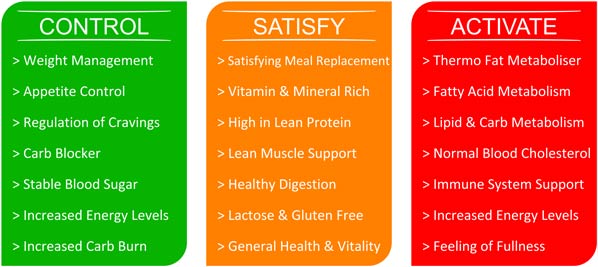 What is VIBE?
VIBE is a CHANGE in your Daily Routine
CHANGE your VIBE and you'll CHANGE your LIFESTYLE
NEW Lifestyle - NEW YOU
VIBE is EASY - 3 Simple Steps
VIBE is EFFECTIVE it Simply WORKS
VIBE is FOCUSED on Nutrition and Vibrant Good Health
Are YOU Ready for a New VIBE?
How do I take VIBE?
Step 1 - Take 1 Capsule of VIBE CONTROL with a full glass of water when you get up in the morning. Do not eat or drink for 30 minutes.
Step 2 - Enjoy a VIBE NOURISH Drink EITHER as your breakfast OR to replace one of your daily meals.
Step 3 - Take 1 VIBE ACTIVATE before each meal with 1-2 glasses of water. (Maximum of 3 capsules per day)
Backup Plan - Feeling the Crave? Take another VIBE CONTROL instead of snacking! (Max 3 capsules per day)
Do I Need VIBE?
VIBE is focused on Vibrant Good Health - who doesn't need it?
VIBE is formulated to help you achieve and maintain a healthy weight and making it as easy as possible for this to really happen.
No false promises, no fantastic claims - just carefully chosen ingredients, blended into convenient nutritional supplements to get you where you want to be.
A New VIBE can get YOU out of the rut and on the right path to a New Lifestyle and a New You.