Vitality Health Insurance
Vitality Health are just one of the insurance providers offered by Bounce!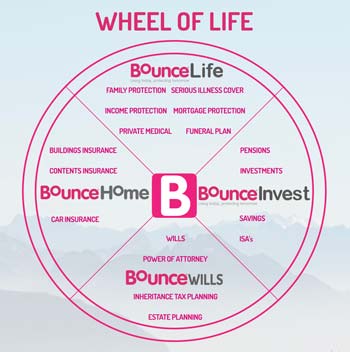 Vitality health wheel of lifeWhatever type of health insurance you are looking for, we can help you maintain your vitality and health, whilst also providing peace of mind for you and your family.
Health insurance doesn't have to be boring! - Our policies have some exciting features and bonuses that can help you earn Vitality Points just for making small changes that can improve your health and well-being.
Our quotations are free and our experienced advisers are available to talk you through your options without being pushy and can help advise you on the affordability of your plan.
You can get an online quote, simply and quickly by filling in a few details or we can arrange a convenient time for one of our advisers to give you a call - whichever you'd prefer.
It's a great feeling when your vitality, health, income, vehicle, pension, savings, home and possessions are safely covered and it may be a lot more affordable than you think.
Get a quote today or arrange a call with one of our friendly advisers and we'll get you covered with the minimum of fuss.
Vitality Health Insurance from Bounce - Health Insurance with Benefits :)