DFT Thrive Patch Review - What you should know before trying the Thrive DFT Patches
Thrive Patch Review
Check out our NEW Range of Patches Here
What is a Thrive DFT Patch?
Thrive patches are applied directly to the skin, like a sticking plaster, adopting DFT or Derma Fusion Technology.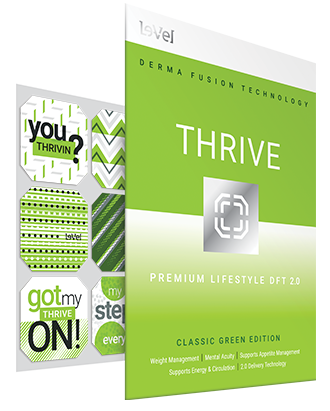 This is a method of administering Le-Vel's Premium Lifestyle Program over the course of 24 hours and part of an 8 week health and wellness program known as the Thrive Experience.
The experience is designed to be a simple routine at the start of the day to provide energy, vitamins and minerals, enzymes, amino acids, antioxidants, natural plant extracts and also prebiotics and probiotics.
The Thrive patch continues delivery of ingredients through the skin for up to 24 hours.
The lifestyle plan looks like this:
Step 1 - Take 2 oral Thrive capsules on an empty stomach.

Step 2 - After 30 minutes - 'Shake it up' with a choice of delicious flavour shakes.

Step 3 - Apply the DFT Patch - Thrive Patches are placed directly on the skin and it's considered best practice to rotate sites for application to reduce the risk of skin irritation.
What's in a DFT Thrive Patch?
ForsLean — the commercial name for the herb Coleus forskohlii. - https://www.forslean.com/forslean/ As with most naturally derived ingredients, benefits have been passed down through the generations. It is thought to aid promotion of lean body mass and is reported as impacting on blood pressure and the circulatory/respiratory system.
Green coffee bean extract

Garcinia cambogia

Coenzyme Q10 (CoQ10) - This is widely reported as helping maintain a healthy circulatory, nervous system and potentially supporting muscle and vision health. As part of this reports that this vitamin may help with associated pain and fatigue in related disorders.

Cosmoperine — the commercial name for tetrahydropiperine, a compound extracted from black pepper. - Reported as being used to increase permeability of natural ingredients such as Coleus forskohlii and green tea with topical (skin) application
You may consider applying a Thrive patch in conjunction with Thrive capsules and shakes for more measurable results.
You can buy your Thrive Patch from Vitality Rocks, or direct from Le-Vel's customer portal.
You can also order a Free 7 Day trial of Thrive