Pure Body Extra (PBX Zeolite) Review
Pure Body Extra Review
Pure Body Extra by Touchstone Essentials is really quite revolutionary within the realm of detox products out there. This 'no taste' nano-sized Zeolite spray comes in a handy 60ml bottle which can be carried with you 'on the go' during your busy day.
Pure Body Extra is manufactured in the US for Touchstone Essentials and is provided in a 2 Fluid Oz (60 ml) spray bottle which is made from amber glass to help preserve the quality of the liquid inside. The directions say to take 4 sprays by mouth, 3 times a day in the morning, noon and night for continuous detoxification support.
The Science behind Pure Body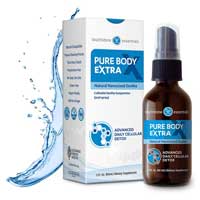 The science is kind of fascinating in that Natural Zeolite acts like a magnet to attract heavy metal toxins like lead, arsenic and mercury to name a few. It traps them inside in a honey-comb and then quickly expels them from the body.
It's reassuring to know that Pure Body's Zeolite has undergone a cleansing process that removes toxins to ensure it is as pure as possible before nano-sizing takes place. What's more the process adds beneficial minerals to replace the bad toxins. And due to its nano-size particles, Pure Body Extra targets toxins at a cellular level whereas powders work only on the gut. The product is also GMO free.
Effective cellular detox benefits everyone. The fact of the matter is that everyone is directly affected by toxins in our modern world. From inside the womb, we're bombarded with toxins and this continues throughout our lifetime so whatever we can do to limit this will benefit health significantly.
Toxins are everywhere - in the products we use, in our environment (the air we breathe and the water we drink) and in the food we eat, so I'm already a fan of any product that can help to remove those toxins and research shows that Pure Body Extra seems to do a good job of it, especially when supplemented with fulvic minerals.
Many people feel tired, sluggish, suffer from coughs and colds and allergies or suffer from 'brain-fog' and this seems to be getting worse rather than better.
That's because toxins can interfere with our immune system and disrupt hormones. All this overloads the system affecting sleep, energy levels and general health including memory, focus and sharpness of the brain. Research even shows cardiovascular disease risk can be linked to toxins. Also, toxins can be stored in fat cells making it harder for us to lose weight.
Pure Body Extra deep cleans the body and gives a feeling of being renewed and regenerated from inside-out which maybe the reason people call it the PBX Detox.
Personally? I feel it's like my invisible shield silently protecting me from a toxic environment. I love the fact that It's also oh-so simple…a few sprays three times a day and that effectively allows me to carry on and enjoy life. The fact that it can benefit ALL the family is such a bonus too!
Pure Body Extra (PBX Zeolite) is available in the UK from Vitality Rocks